Get Your Custom Embroidery Today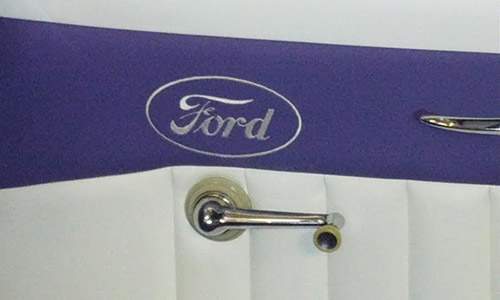 Custom upholstery and interior features represent the pinnacle of luxury and sophistication. Making custom interior upholstery can add to the appeal of the car, or embroidering your company logo on the seat of a jet can project a message of success about your brand. You just have to make sure the work is being done by qualified, talented professionals.
AMA Interior Solutions LLC is unparalleled in our ability to give you the custom interior upholstery in Kelso, WA you demand for your car, truck, SUV, or classic auto. From the carpet to the seats, runners to trim and beyond, we go above and beyond to create a quality, unique interior.
No matter the color, pattern, logo or design, no matter the mode of transportation, trust in our ability to bring your interior to life. We're your trusted experts for everything from fresh, new carpeting to one-of-a-kind custom embroidery in Kelso, Rose Valley, Cowlitz County, Longview, and Rocky Point, WA. Contact us today for auto upholstery!
Custom manufacturing
Our custom interior upholstery capabilities also encompass custom manufacturing for a wide range of products. Some of our products and services include:
Custom designs
Leather specialist
Custom patterns
Custom embroidery
Closeout or blackout curtains
Orthopedic seats
Medical mattresses
Straps
Head strike pads
Custom pipe insulation
Cargo nets
For more information about our products or capabilities, please get in touch with us today by calling 360-577-5433.
Interior FAQs
Can I bring in my own garments?
Yes, however, we cannot guarantee the garments. Not all fabrics embroider well. We have name brand manufacturers and 1000s of styles to choose from that are guaranteed.
How do you determine the cost of an order?
A custom embroidery order is quoted based upon estimated stitch count and quantity. We give a firm cost of your order in advance upon review of your design. Additional charges will apply for rush orders.
Do you stock designs for me to choose from?
We offer the Dakota Collection, which has 2000 designs to choose from. We can also digitize your logo or work with professionally digitized embroidery-ready files supplied by you. There is a charge to make your design ready for seat embroidery. This charge is dependent on the number of stitches and the complexity of your design. An exact quote can be given after our embroidery department reviews your design. The fee is approximately determined by adding $7 for every one thousand stitches.
What do I need to supply to you for artwork?
For best results, supply us with the best artwork you have available in order for us to closely match your design. If you have a design that was previously digitized by another seat embroidery shop, send us the digitized file from that job to ensure a perfect reproduction.
Supplying an embroidery-ready file will lower your setup fees. We accept vector formats such as .AI or .EPS that can be opened with Adobe Illustrator. If you are submitting a vector file in these formats, convert all fonts to outline or curves first.
Design files can be emailed to

[email protected]

as an attachment.
Can you enlarge or reduce the size of my design?
We can enlarge your design up to the maximum area that our machines can handle. Reduction of your design is limited to the point where your embroidered design will hold the required detail. Digitized designs can be reduced down to 90% or enlarged up to 110% without incurring a re-digitizing fee. For best results, supply your design at the exact size that it will be reproduced.
What is the largest sewing area for an embroidered design?
We can embroider within an area up to 16″ wide and 11″ tall for one design. Large designs that extend over this area can possibly be accommodated if there are areas in your design that are not connected (such as text). Your design can then be divided or split into two separate stitching runs that fall within a 16″ x 11″ area. However, splitting your artwork will significantly increase the cost of your order.
How small can you make embroidered letters or words?
For best results, we recommend that embroidered text be a minimum of 1/4″ in height. The quality of text degrades considerably when less than this height.
When you digitize a seat embroidery design, who owns the digitized file?
The Embroidery Shop owns the digitized file. You will be charged once to set up your artwork. There will be no setup charge for reorders if you do not require changes to your design.
Are design charges applied to every order?
No. Design charges are not applied for reorders if we have your embroidery-ready file, or if you supply us with an embroidery-ready design file on disk.
How long will my order take to complete?
Our standard turnaround time for a basic order is 7-21 business days after your approval of a digitized design. Allow additional time for shipping if required.